"Answers to humankind's problems lay in
the future – certainly not the past"
ABOUT LONGVIEW FUTURES FOUNDATION .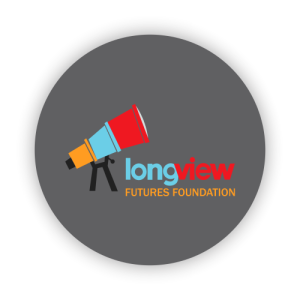 Hindsight . Insight . Foresight
LongView Futures Foundation (LVFF) is the non-profit arm of LongView group incorporated as a company limited by guarantee in 2019. It was established to conduct public benefit foresight work on the African Continent. LVFF's premier project, is the Africa foresight lab.
About the Africa foresight lab
Investing in Africa to be future oriented… empowering people to shape their futures
The Africa foresight lab (AFL) sees itself as a catalyst - to grow the number of futurists on the continent; to nurture foresight literacy among professionals and among individual change makers; and to mainstream foresight thinking as the operating system in institutions, organizational departments, and government entities. AFL's mission is predicated on the fact that Africa has numerous developmental challenges that prevents it from optimally achieving its potential. At the center of what cripples the continent is: historical drawbacks that prevent it from competing on an equal footing with the rest of the world; an elite that constantly sacrifices the continent's long-term interests for personal and short-term expediency; and the fact that people's urgency for long-term thinking and planning is curtailed by prevailing circumstances of hand to mouth. We have been stuck for so long in these cycles, that change often seems elusive. Most people have resigned to these closed-minded, defeatist patterns, thinking that things cannot possibly change. However, Africa has the greatest opportunity to proactively pursue its future, and leapfrog into new heights. The prospects for this better future are predicated on the fact that the world is rapidly changing and the development models of the 19th and 20th century are quickly losing their relevance. This means Africa, in resolving its myriad of challenges, has an opportunity to innovate new realities. However, to effectively do so, the continent needs progressive people with forward thinking, 21st century skills: to understand what is driving future change; analyze the possible impacts of these changes, as they make sense of the futures Africa might have to face; but more importantly, to use this proficiencies to imagine, strategize, prepare for and collectively create preferred futures.
The courses are primarily offered by Dr. Katindi Sivi who is among the top six female futurists in Africa, according to Ross Dawson's ranking, as a researcher, policy analysts and foresight practitioner for twenty years. She holds a PhD in Strategic Foresight from Regent University, an MSc in Organizational Development and a BA in International Relations, both from United States International University, Nairobi Campus. She also has Scenarios Planning training from the University of Oxford, Said Business School.
Within one year into setting up, we have partnered with Africa Alliance of YMCAs through their 'growing future change makers' to train their Africa youth leaders. We are also privileged to partner with Africa Alliance of YMCAs through the 'action learning and foresight practice' to co-design youth power spaces around the continent!
Based on what other young people in Kenya said about a similar futures training and strategy project
Study conducted by Kellogg institute for International Studies, University of Notre Dame, 2019
The Africa Foresight Lab hopes that you will be interested in belonging to a community of young futurists:
We commit to
Giving room for country chapters to emerge.
Play a role in continuous knowledge building within the chapters.
Link you up with international futures conversations.
Support you in any futures related technical help you might need in your work or community on a consultancy basis
As an alumni, we hope you will:
Join and actively participate in the alumni association that will emerge from the cohorts we train.
Give us regular feedback on the exciting things you are doing with the knowledge you received.